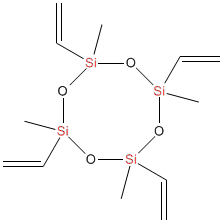 When formulating 2-part-systems, it is recommended to have part 1 consisting of Vinyl fluid and catalyst, and part 2 of Vinyl fluid and crosslinker, respectively. By this, a mixing ratio of 1:1 can be adjusted easily.

Due to the high reactivity of the platinum catalyst, the pot life of the catalyzed mixture is only a few minutes but may be considerably extended by addition of an inhibiting additive, like:

SiSiB® PC9401, CAS. 2627-95-4.
SiSiB® PC9110, CAS 2554-06-5, ViD4.